⬛ Additional Discount, BFCM Sale: Use the Code "BFCM" at Checkout! ⬛
(Please measure your pet's weight before a purchase! 😊)
Ships Directly From Our USA Warehouses
🇺🇸 Ships Directly From Our USA Warehouses 🇺🇸
How do I Use my Pet Pack?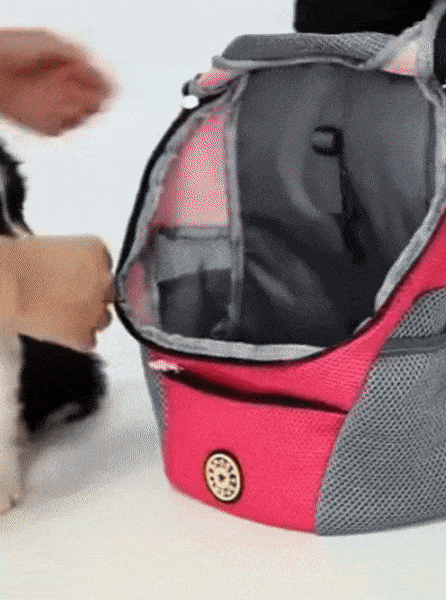 If you have a pet <4 pounds we recommend getting a Small size and placing a wrapped blanket or small pillow at the bottom of the backpack to fit your pet!

If you have any unique questions about your order, contact us here.

You can also check out the FAQ below.
Are Pet Packs for Cats and Rabbits, too?
Of course!
These backpacks were originally intended for dogs, but I'm sure that a cat would fit perfectly in this backpack as well.
We've also noticed that rabbits tend to enjoy the the Pet Pack as well!
Yes!
The backpack comes with adjustable straps, so most people should be able to wear this backpack without any issues.
How Can I Track my Order?
If you would like to track your order, please use the following link. Please allow 2 to 3 business days to process your order before using the link. We will email you your tracking number when it is ready to reach out to the shipping carrier.
Most packages within the United States arrive in 5 - 12 business days. Once a package leaves our fulfillment center, we will contact you regularly with emails to make sure your Pet Pack arrives in time!
Do you Accept other Currencies?
Right now we're only able to accept USD currency for our purchases.
We're working to implement new payment systems that will allow us to accept not only different currencies, but also dozens of different regional payment systems in the future.

Q: What should I measure on my pet and how?
A: Make sure to measure your pet's weight in pounds
We know finding the right size is important, so if you have any other questions, please contact our support team Here. We can help you out!
I hope this helps you!

Q: My Mini Dachshund has a really long torso, he weighs 8.5 pounds but is 17 inches long. Should I get a Medium size or a Large?
A: Hmmm... That's a tough one. I would say a Large one just to be safe. If your Pet Pack is too large, you can always put a wrapped blanket or a small pillow inside the backpack to help your Daschund fit.
You can also contact our support team for an exchange just in case it is too big or small!
I hope that helps!
Q: I have an 18 pound Pug, do you think he could fit inside a large one?
A: I don't think so. These Pet Packs were designed for animals 12 pounds or less.
But we do have another Pet Pack designed for larger pets, check it out Here!